Wake Forest University Awarded $30M Lilly Endowment Inc. Grant to Build National Capacity for Character Education
Main Content

by Cheryl Walker  |   walkercv@wfu.edu  |   336.758.6073
Lilly Endowment Inc. has awarded Wake Forest a $30.7 million grant to support the University's Program for Leadership and Character and create a national higher education network devoted to educating character.
"We believe focusing on character can help many colleges and universities realize their aspirations to educate the whole person and generate the knowledge, capacity and character that our students will need to live and lead well in the 21st century," said Michael Lamb, executive director of Wake Forest's Program for Leadership and Character, F.M. Kirby Foundation Chair of Leadership and Character and associate professor of interdisciplinary humanities.
In addition to supporting the creative programming and cutting-edge research taking place at Wake Forest University, the five-year grant will dramatically extend the impact of that work nationwide by helping public and private colleges and universities across the country develop and strengthen their own character education initiatives.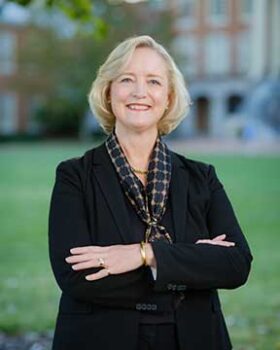 "Universities are called to be catalysts for good in our society," said Wake Forest President Susan R. Wente. "With this unique and truly significant investment from Lilly Endowment, Wake Forest will lead broader public conversations across higher education that place character at the center of leadership, and become a national resource for supporting colleges and universities across the country in developing their capacity to educate character."
Wake Forest University is already known as a premier center of leadership and character for students who wish to develop the virtues needed to lead and for scholars who wish to deepen their understanding and application of character education. For the last few years, Wake Forest has partnered with the Oxford Character Project at the University of Oxford to lead conferences on leadership and character that have attracted thousands of participants from around the world.
"Cultivating leadership and character is a reflection of Wake Forest's deepest values and aspirations and exemplifies our commitment to our motto, Pro Humanitate."

Wake Forest University President Susan R. Wente
"Lilly Endowment's founders firmly believed that character formation is essential to the flourishing of individuals, families and the larger society," said N. Clay Robbins, Lilly Endowment's Chairman and CEO. "We are living in a moment of deep cultural and political polarization and increasing distrust of leaders and institutions. We are pleased to add our funding to that of the Kern Family Foundation, John Templeton Foundation, Templeton Religion Trust, Templeton World Charity Foundation, and other foundations and supporters to assist Wake Forest in developing further its character education capacity and strategies. We also are pleased to support its efforts to help foster a national network of colleges and universities with the aim of educating a new generation of morally and ethically grounded leaders to rebuild trust and enhance civic engagements."
Wake Forest plans to use funding from its grant to:
host conferences that build connections with faculty and staff from colleges and universities and explore new ways to develop and measure character
offer workshops on educating character and teaching specific virtues and capacities, such as empathy, honesty, gratitude, resilience, justice, citizenship, humility, compassion, respect, and hope that help to build trust and promote flourishing communities
lead summer seminars for faculty and staff from colleges and universities interested in integrating character education into their teaching and campus activities
provide teaching resources, including handbooks, discussion guides, sample course materials, videos and podcasts on character development to support faculty in integrating character education into their classes
More than $23 million of the grant will enable Wake Forest to award grants and provide support to other colleges and universities to create their own initiatives focused on character.
"These grants will be vital for extending the reach and impact of character education and sparking a wider national movement to make developing one's character an essential part of a college education."

Michael Lamb, executive director of Wake Forest's Program for Leadership and Character
Wake Forest will administer a competitive grant process for:
planning grants of up to $50K
grants ranging from $250K to $1M to launch character education initiatives at other colleges and universities
teacher-scholar grants for faculty who want to research character education in higher education
professional development grants to equip faculty and staff with the knowledge, skills and capacity to educate character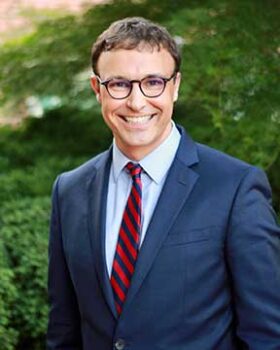 The grant will also support the ongoing work of Wake Forest's Program for Leadership and Character, including staff to deliver ongoing programming to students and the development of workshops and resources for faculty and departments to integrate character into their courses and programming.
In addition to Lamb, Kenneth Townsend, scholar-in-residence at Wake Forest University Law School and director of Leadership and Character in the Professional Schools, will co-direct this grant. Nathan Hatch, president emeritus of Wake Forest, will serve as a senior advisor.
The Program has already helped more than 75 Wake Forest faculty develop new courses and modules on leadership and character that have reached more than 2,700 students. The Program plans to build on that momentum to create teaching resources that can be used by faculty at other colleges and universities.
HISTORY AND PURPOSE
SEVEN STRATEGIES
Over the last decade, Wake Forest faculty have become leading experts in the study of character. Drawing on insights from education, philosophy, psychology, neuroscience, and other fields, the Program utilizes seven evidence-based strategies for character development:
1. Habituation through practice
2. Reflection on personal experience
3. Engagement with virtuous exemplars
4. Dialogue that increases virtue literacy
5. Awareness of situational variables and biases
6. Moral reminders
7. Friendships of mutual accountability
The Program integrates these strategies throughout its coursework and co-curricular programming to strengthen virtues of character in students, with a particular focus on nurturing their sense of purpose and helping them develop the virtues of compassion, courage, gratitude, honesty, hope, humility, justice, kindness, and practical wisdom.
Since 2017, the Program for Leadership and Character has offered a variety of creative programs to Wake Forest students, including courses, scholarship, and seminars to explore the kind of people they aspire to become. In addition to hosting speakers, retreats, and workshops, the Program's work with Wake Forest students includes several extra-curricular discussion groups each semester. The most popular, "What is College For?" encourages students to grow by exploring big questions about the nature of higher education and the purpose of living a good life.
The University will continue to design and deliver innovative programs that prepare students to become ethical leaders on campus and in their communities. The grant will allow Wake Forest to expand student offerings and develop student programs that other schools can adapt to their campuses.
"Character education is not one-size-fits-all," said Lamb, co-editor of the book, "Cultivating Virtue in the University." "It requires being attuned to different institutional and cultural contexts. We are excited to share what we have learned at Wake Forest and to learn from others engaging in this work in their own institutions. We believe a diverse network of colleges and universities focused on educating character can help to shape the future of higher education."
MEASURING SUCCESS
A key component of the work Wake Forest will do is focused on evaluating the impact of character-related courses and programming on the leadership and character of students as well as their sense of belonging, levels of civic engagement, career readiness and academic interests. The grant funds staff and resources to conduct and publish this research and evaluation.
BUILDING ON PAST SUPPORT
In 2019, the Program for Leadership and Character received a $3.4 million grant from Lilly Endowment to expand the program's capacity to teach, mentor and guide students at Wake Forest. The three-year grant has supported and expanded the existing Program, funding new staff members, courses in a variety of disciplines, workshops for students and faculty, conferences, retreats, guest lectures, and efforts to advance research and assessment.
The Program also received $8.6 million from the Kern Family Foundation in 2021 that significantly expands this work in Wake Forest's professional schools and pre-professional education. The Kern Family Foundation grant is focused on equipping future leaders in medicine, law, engineering and other professions to think in holistic ways about their values and work.
CHARACTER EDUCATION BASED ON RESEARCH
Over the last decade, Wake Forest faculty — including William Fleeson, Mike Furr, Eranda Jayawickreme, and Christian Miller — have become leading experts in the study of character.
Wake Forest's Program for Leadership and Character builds on this faculty expertise and uses their groundbreaking research to determine how to develop and measure character.
The nearly $6 million, five-year Character Project, supported by the John Templeton Foundation, fostered new advances in the study of character with research by psychologists, philosophers and theologians on such topics as honesty, generosity and empathy. The Beacon Project, launched in 2015 with a $4 million grant from the Templeton Religion Trust, has funded 21 projects regarding exceptional moral role models. Launched in 2020, the three-year Honesty Project has brought researchers together to address fundamental philosophical questions and explore the science of honesty. And a three-year, $1.6 million grant on Exemplar Interventions to Develop Character supported researchers from Wake Forest and universities in the US, UK, and the Netherlands to explore how moral role models can shape character. Both grants were funded by the John Templeton Foundation.